Instincts Led Angelina Jolie to Son, Actress Says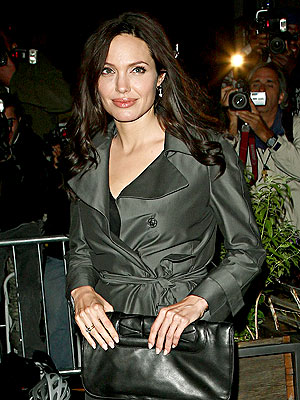 Jackson Lee-Tom Meinelt/Splash News Online
Fate led Angelina Jolie to her son Maddox Chivan, 7, the 33-year-old actress says in a new interview with Parade. After visiting Cambodia, Angelina felt as though she had "left something behind" upon her return to the United States; on a follow-up trip she says her instincts could no longer be ignored. "I felt, 'My son's here,'" Angelina explains. "It was the strangest feeling."
"I woke up that morning thinking, 'They're going to introduce me to my kid today and I wonder how I'm going to feel.' And the moment I saw Maddox I knew I was his mother. I can't explain it."
Six years and five more children later — together with partner Brad Pitt, the couple are also parents to Pax Thien, 4 ½, Zahara Marley, 3 ½, Shiloh Nouvel, 2, and 3-month-old twins Knox Léon and Vivienne Marcheline — Angelina acknowledges that she's now the matriarch of a "high-profile family." Paparazzi can be intrusive, and the couple are often left walking "a fine line of wanting [the children] to be aware of strangers but not making them afraid." She and Brad tackle the topic head on, however. "Like everything with children, it's just communication and being honest with them," she explains. Regardless of the paparazzi's constant presence, or the ebb and flow of her career, Angelina says that for her — family is all that matters. "The world can like me, hate me, fall apart around me, and at least, you know, I wake up with my little kids and I'm happy," she says.
"I'm just a mom and I'm very grounded by my family. I'm very happy, and I'm so lucky."
Angelina's new movie, Changeling, is in theaters October 31st.
Source: Parade