Sarah McLachlan Says She's Calmed By Motherhood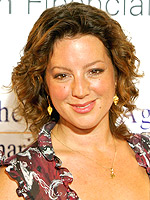 Ethan Miller/Getty
Like many a singer and songwriter before her, motherhood has forced Sarah McLachlan to alter her approach to making music. Mom to India Ann Sushil, 6, and Taja Summer, 15 months, Sarah "used to go off to some cabin in the woods" by herself for six months where she would "write constantly." Those days are long gone, however! Now Sarah, 40, considers herself "lucky to get an hour a day when the kids are in bed."
"In the past, I was traumatized when it didn't come. Parenting has calmed me down to the point that now I just shrug and say, 'It'll come.'"
Fans who have been hoping for Sarah to crossover into children's music now that she's a mom, herself, might have reason to hope. When asked if she has ever considered making such an album, she revealed that she has started to write a song for Taja. "We'll see," she adds.
India and Taja are Sarah's daughters with estranged husband Ashwin Sood.
Source: Canada.com