Russell Crowe Anxious to Expand 'The Brood'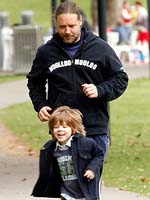 Bauer Griffin
Calling fatherhood the "most special and wonderful" thing in his life, Russell Crowe is "continually asking" wife Danielle Spencer when the couple can begin "expanding the brood." Already parents to 4 ½-year-old Charlie and 2-year-old Tennyson, Russell jokes that he would like "17 or so" kids — but Danielle has not been easily persuaded. "I say to my wife, 'Imagine having a daughter! A little you running around!'" the 44-year-old actor said during a Tuesday appearance on Late Night with Conan O'Brien. "She just [smiles and nods] and says 'Yeah, yeah…no.'"
The boys are clearly a source of great joy for Russell, who shares that Tennyson is capable of having a "detailed conversation" when father and son are face-to-face. Over the phone, however, is a different story. "Because I can't see him, I don't always know what he's talking about," Russell explained, so Tennyson will often "reduce the conversation down."
"I'll say 'How are you bub?' and he'll just say 'Dad.' 'Are you good, doing well?' 'Dad.' 'Oh baby, it's okay, I miss you too…I'll see you soon.' 'Dad.' It just goes on and on like that."
Charlie, on the other hand, can be quite prolific with his words. Russell shared a recent exchange with his son, after Charlie had been "a naughty boy" — something that has been happening "more and more" as of late, Russell admits. "I said bad boys become bad men, and you are going to be a good man Charlie Crowe," Russell recalls. "You're a part of me, you're from me, you are of me and you will be a good man." Charlie paused, shook his head no, and then said something Russell found "sublimely profound."
"He goes, 'I'm not from you dad, I'm the missing part of mommy, and Tennyson's the missing part of you.' I was just like, 'Dad's just got to have a little bit of a lie down.' It was so ridiculously accurate it just freaked me out, that he would pick up on that."
Russell's latest film Body of Lies opens October 10th.
Source: Late Night with Conan O'Brien