Freddy Rodriguez: Son's Facial Hair May Cause Mistaken Identity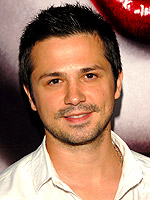 Mark Sullivan/WireImage
Being the father of two boys — Elijah and Giancarlo — and having them "100% depend on you and you being responsible for molding their lives," couldn't make actor Freddy Rodriguez happier as he shares that he is thrilled with fatherhood. Not letting their dad's role on the sitcom Ugly Betty phase them, Freddy reports that the boys are doing "great" and are into "stuff that regular kids do nowadays," making memories that the 33-year-old actor is enjoying as he watches them grow up.
However, as his firstborn is reaching those infamous teenage years, the former Six Feet Under star jokes that as his eldest son has begun growing facial hair, they warrant some odd looks as the father-son duo walk down the street!
"It's starting to look weird when I walk down the street with him. I'm starting to look like his big brother rather than his father."
Elijah and Giancarlo are Freddy's children with high school sweetheart turned wife, Elsie.
Source: OK!