Charlotte Church Soaking Up Time with Ruby; Planning Second Homebirth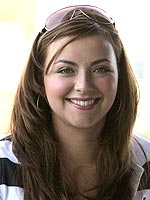 Matt Cardy/Getty
Big sister-to-be Ruby Megan Henson, 1, is growing up faster than parents Charlotte Church and Gavin Henson would like! Sharing that their little girl is "changing so much," Charlotte admits that she can't stand to be away from her daughter, fearing that by missing out "on one day with Ruby," she could be missing a major milestone. "I want to be there every second," says Charlotte who refers to her firstborn as a "real daddy's girl." Besides having a special place in her father's heart, Ruby also seems to be the spitting image of Gavin, but did inherit "my chin and mouth," shares Charlotte.
With the 22-year-old due mid-January with the couple's second child, Charlotte and Gavin have been concentrating on preparing their home in Wales. The Victorian house, which Charlotte "love, love, loves," holds a special memory for the couple as it is where the singer gave birth to Ruby back in 2007. If all goes according to plan, Charlotte is ready to welcome the new baby in the same quiet, serene setting as her first homebirth. They have opted to not find out the sex of the baby, and stress that while they would love to have another little girl, they are looking forward to a baby boy "at some point." Besides more babies in their future, Charlotte and Gavin also dream of one day tying the knot! Says Charlotte,
"It will come in time, when we want to do it. We both think a wedding on a beach would be very romantic — when the time is right."
Source: Hello!