Working Moms in Hollywood Talk About Balancing Both Roles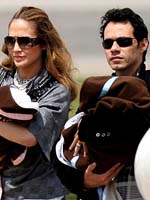 VIRGINIE LEFOUR/ AFP/Getty
Most of us will never know what it feels like to balance a wiggly baby on our laps while having our hair and makeup done, but like regular moms, Jennifer Lopez admits she's "still figuring it out" when it comes to balancing work and motherhood. "It's hard to even be away from them," the 39-year-old songstress and mom to 7 ½-month-old twins Max David and Emme Maribel said last night at Elle magazine's 15th Annual Women in Hollywood Tribute. "I keep putting them on my lap and the makeup artist is like 'Um, can you move her?' And I'm like 'No! And you know what? I have to have two babies on my lap!'" Holding her ground on holding her babies is just "part of being a mom," Jennifer says — and part of being a mom is accepting that her "whole world has changed." "It's going to affect every single decision of my life," she explains.
Nicole Kidman, who was an honoree at the event, has been navigating the tricky terrain of working motherhood for over a decade as mom to 15-year-old Isabella 'Bella' Jane and 13-year-old Connor Antony, with ex-husband Tom Cruise. Since welcoming daughter Sunday Rose, 3 months, with husband Keith Urban the 41-year-old actress says she doesn't "ever leave" her baby girl behind, regardless of where her job takes her. On Monday, Keith split babysitting duties with Bella so that Nicole could attend the gala, and the family was scheduled to fly home to Tennessee today. Although the travel is hectic, Nicole said she takes comfort in all the working moms who have come before her.
"I have to have her with me. Being a mom is the norm. So many women … have their toe at least in the workforce and they still want to have families. That's me too."
Count Halle Berry in as well. Noting that she's "only seven months in to learning how to balance those things" as mom to Nahla Ariela, the 42-year-old actress says there is one thing she knows for certain: "Many women have done it before me, so it's doable." Instead of feeling panicked about the pressure to have it all, Halle says she's learning as she goes — and going easy on herself when and if she comes up short. "I'm a newbie, and I'm making a lot of mistakes right now," she admits.
Max and Emme are Jennifer's first children with husband Marc Anthony. Sunday is the third child for Nicole and first for Keith. Nahla is the first child for Halle and partner Gabriel Aubry.
Source: USA Today