No Delivery Surprise For Jonny Lee Miller and Wife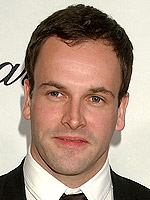 Gregg DeGuire/WireImage
Expectant father Jonny Lee Miller says that the sex and name of his baby-on-the-way are a secret to just about everyone — everyone, that is, except he and wife Michele Hicks. When asked Monday on The Ellen DeGeneres Show whether they're having a boy or a girl, Jonny quipped that the couple are just "hoping [it's] human," then admitted that while they do know the sex, they've opted not to share the news.
Similarly, the couple have chosen a name but Jonny says it's "the kind of thing we don't discuss with people" because "even your friends that don't want to offer an opinion, they kind of do just by their facial expressions." They'll say "that's a good name!" or "I like it!" when it's clear they don't really mean it, the 35-year-old Eli Stone actor joked. When pressed by host Ellen DeGeneres, however, Jonny did reveal that he and Michele have chosen a "normal" name.
The couple, who married in July, confirmed the pregnancy last month. The baby is due by the end of the year.
Source: The Ellen DeGeneres Show