Jean-Christophe Novelli Welcomes Son Jean Frankie Patrick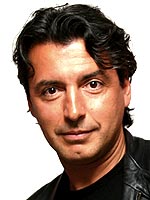 Gareth Cattermole/Getty
French celebrity chef Jean-Christophe Novelli and his fiancée Michelle Kennedy were hoping to visit Los Angeles, finish filming a new show for the US-based Novelli Cookery School, and head back home to England, where they had planned to welcome their first child together with a natural birth. However after a doctor deemed Michelle — who had high blood pressure — in no condition to fly, the couple decided to take the unexpected in stride and rented an apartment near Venice Beach, Calif.
Introducing their son in the new issue of Hello, Jean-Christophe shares that at that moment, he couldn't have been more proud of Michelle, who he says "is very strong. There was no panic, no screaming, no drama." With the 46-year-old chef forced to split his time between the two continents, Michelle found herself spending time with new friends and Jean-Christophe's daughter Christina, 21, from a previous relationship. While everything seemed to be falling into place, Michelle admits that her constant fear was that her fiancé would miss the birth of their first child. In the end, her fears seemed to be justified as he landed hours before the mom-to-be went into labor and welcomed their son, Jean Frankie Patrick Kennedy, on August 29th.
Continuing the trend of unexpected plans, Michelle shares that her labor did not go exactly as she had hoped for. Welcoming Jean-Christophe home after a trip back to England, Michelle says that their baby boy "heard his daddy's voice, and that night I went straight into labor." Calling the drive to the hospital the "scariest part," the 32-year-old says that she was "in a lot of pain," while Jean-Christophe adds that "she didn't show anything. She's so strong. Typical Irish blood."
Although Michelle had expected the doctors to send her home, when she was told that the big day had arrived, her first thought was that she was "not ready for this!" After 14 hours of labor, Michelle received news that her baby's heartbeat was dropping and that the doctor had planned a Caesarean. Comparing the experienced to "an episode of ER, minus George Clooney," the new mom let Christina cut her brother's cord as Jean-Christophe stood by in awe. "You feel so overwhelmed and in love," says Jean-Christophe on seeing his son for the first time. While Michelle was pleasantly surprised to find out they had welcomed a baby boy, Jean-Christophe had already been let in on the secret!
"I found out. But Michelle wanted it to be a surprise so I kept it a secret. But when she came home with pink baby things I was laughing!"
Click 'more' to read Jean-Christophe's new approach to fatherhood and his hopes for his son.
Although this is not the chef's first child, he shares that after divorcing Christina's mother when she was six, he feels "one minute, I was enjoying fatherhood, the next I was cut out of her life." Taking a new approach with his son, Jean-Christophe — who says he has realized what he lost — is ready to enjoy his new life with his baby boy. "It's definitely the best time of my life. It's not because he's a boy, it's because it's with Michelle, and it's the three of us together," explains Jean-Christophe. Clearly thrilled with their new arrival, the excited dad shares that now that Jean is old enough to travel with his parents — who have decided to raise their baby without a nanny — the couple will "not accept" being separated. Jean-Christophe believes that when a parent is away from their child "that's where I think you miss out. So we will go everywhere together."
As for baby Jean's future, his dad already has high hopes for his boy. Sharing that Jean is "very expressive," he looks forward to him walking when Jean will be "playing golf, tennis, swimming, everything." Additionally, Jean-Christophe is prepared to have his son "cooking alongside me," but says there will be no pressure on his part to enter into the same field as his father. "I'd never force him to be a chef. But he should be a good cook because you don't have to teach it, it's in your genes."
Click here to see a picture of Jean-Christophe with Michelle and baby Jean.
Source: Hello!