Gabriel Aubry, Halle Berry 'Working On' Getting Pregnant; Jennifer Lopez Gives Twins Update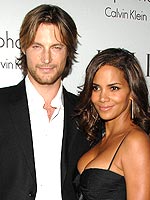 John Shearer/WireImage
At the 15th Annual Women in Hollywood Tribute on Monday, Elle magazine shined a spotlight on the biggest movers and shakers in the entertainment industry — including several popular celebrity moms. Honoree Halle Berry, 42, was on hand, and says "life is good" since welcoming 6 ½-month-old daughter Nahla Ariela — whom she went on to call the "joy of my life." So good, in fact, that Halle's partner Gabriel Aubry reveals that the couple are already "working on" baby #2! Calling Halle "the best mom that anybody could ask for — or wish for," Gabriel tells Us Weekly that their daughter is on the verge of taking her first few steps.
"She is walking with assistance, let's just put it that way."
Jennifer Lopez, 39, was also in attendance, and gave an update on 7 ½-month-old twins Max David and Emme Maribel — her first children with husband Marc Anthony. The babies are "getting so big," Jennifer said, and hitting some important milestones of their own, like sitting up and getting their first teeth. Their personalities are quite distinct, Jennifer added.
"Max is like Marc, he's got lungs, he screams and he's very boy. Emme is very delicate and quiet…but you can't mess with her."
Also honored at yesterday's event were celebrity moms Salma Hayek, 42, mom to 1-year-old Valentina Paloma; Nicole Kidman, 41, mom to 3-month-old Sunday Rose with husband Keith Urban and Isabella 'Bella' Jane, 15, and Connor Antony, 13, with ex-husband Tom Cruise; and Isla Fisher, 32, mom to 11 ½-month-old Olive.
Sources: Entertainment Tonight and Us Weekly