Christina Aguilera on Staying True to Herself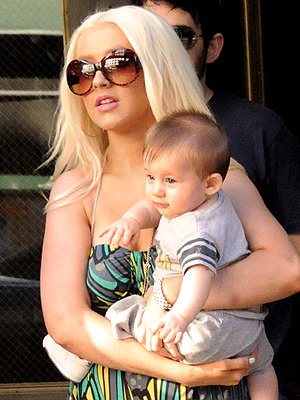 John PKL/Splash News
Fans of Christina Aguilera's music who feared she might tone down her act after becoming a mom, take heart — the 27-year-old songstress has no intentions of singing a different tune now that she's welcomed Max Liron, 8 ½-months. "It is important to show Max what mommy does," Christina tells Metro. "It is really important to me is that he is an individual and that's why it is important for me to stay true to myself. If it happens to be raunchy so be it! It's a matter of self expression to me." She reveals to Playlist, "I'm not going to take the safe route just because I had a child. Motherhood hasn't changed me."
"I want to be the best mom I can be but I also want to show my son whoI am as a person, not just this woman who changes diapers and breastfeeds."
In a separate interview with PEOPLE, she revealed that she feels "sexier than ever," and said that being honest about herself with her son is ultimately good for them both.
"I let my son experience who I am — as an artist, as a musician, things that I love and am passionate about. That can encourage him to be passionate about things he might enjoy in the culture. It's always good to give those lessons."
This Thursday, Christina will headline the Africa Rising Festival at the Royal Albert Hall in London. Although she has returned to pre-baby form, whether she's reclaimed her pre-pregnancy endurance levels remains to be seen. "I am not a fan of working out whatsoever [and] I am building up my stamina as we speak," she says. "It's been a while since I have put on such a long show and since having a baby."
Max is Christina's first child with husband Jordan Bratman.