Brooke Burke on Dealing with Jealousy, School Lunches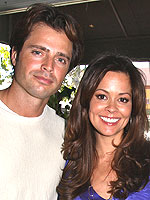 Flynet
Besides the normal sleep and schedule adjustments when welcoming a new baby, parents who already have little ones at home know that — in most cases — it is only too soon before jealousy issues among the siblings start to arise. According to Brooke Burke, her youngest daughter Heaven Rain, 21 months, "is going through something new" and seems to be entering into this very phase when it comes to mommy time with baby Shaya Braven, 7 months. Brooke shares that whenever she holds her son, Rain — with her "limited vocabulary" — becomes a bit frustrated and "insists that I pass him to her Papa whenever he is close" by pointing to her father. However, the 37-year-old mom isn't too worried and attributes this new behavior to her "hectic schedule" these days. In fact, Brooke says that she has "never devoted so much time to anything in my life" and can only dream of "the lazy days with nothing to do but hang with my kids." Luckily for the entire family, Brooke is looking forward to a "relaxing vacation" when she is finished with Dancing With the Stars.
Once again taking to her blog for some mom advice, Brooke is looking for new ways to make her girls' — Neriah, 8 ½, and Sierra Sky, 6 ½ — lunch boxes fun and exciting, but more importantly healthy! In the past, Brooke shares that she has packed "jello, string cheese, nuts, yogurt, crackers, fruit and edamame, but being blessed with kids who have "never been sandwich eaters," the lunch maker is asking her readers for some suggestions on snacks for her kids. For Sierra, snacks these days might need to be soft as Brooke reveals that her daughter "lost her first two [teeth] this month!"
Rain and Shaya are Brooke's children with fiancé David Charvet; Neriah and Sierra are her daughters with ex-husband Dr. Garth Fisher.
Source: Baboosh Baby
How did you deal with jealousy issues among your kids? Any healthy treats for your kids in their lunch boxes?