Angelina Jolie Says Children Are Too Busy to Be Jealous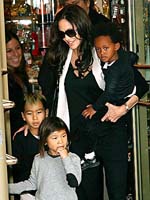 Jackson Lee-Tom Meinelt/ Splash News Online
With six kids age seven and under, sibling rivalry is a non-issue in the Jolie-Pitt household says mom Angelina Jolie. "They're so many of them that they're busy with each other and the kids don't take up too much of mommy and daddy's time," the 33-year-old actress tells Extra. To keep things balanced, Angelina shares that she and partner Brad Pitt "try to give everybody their special time, so they're not too jealous of [3-month-old twins Knox Léon and Vivienne Marcheline]." The effort appears to be paying off, for Angelina shares that her older children "actually have fun with them."
The comments came during the Saturday premiere of her new film Changeling, in which Angelina plays the mother of a kidnapped child. As she's stated previously, the subject matter was understandably difficult — and she admits to being "clingy" with her own kids during the shoot as a result. In addition to the twins, Angelina and Brad are parents to Maddox Chivan, 7, Pax Thien, 4 ½, Zahara Marley, 3 ½, and Shiloh Nouvel, 2.
Changeling is in theaters October 31st.
Source: Extra