Tom Cruise and His Pigtailed Princess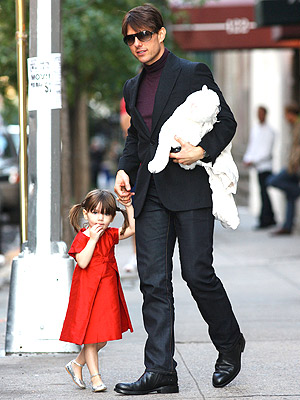 INF
A dapper-looking Tom Cruise took 2-year-old daughter Suri — sporting pigtails! — out to meet the family for dinner at Le Bernardin on Saturday evening.
Besides mom Katie Holmes, the entire family seems to be in town — older children Isabella and Connor, Tom's mother Mary, and Katie's parents Martin and Kathy.
See more photos of Tom, Suri, and Katie in our Holmes-Cruise Family Gallery!
Suri wears Helena & Harry's Dupioni Dress with Front Bow ($259) — she wore the same one back in January — paired with Bonpoint's Ballerina Shoes.