Nicole Kidman: Motherhood in My 40s is Bittersweet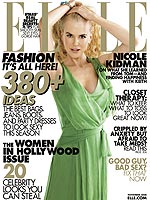 Courtesy Elle
After divorcing actor Tom Cruise in 2001, the chance of meeting another person to spend the rest of her life with was not something that Nicole Kidman pictured for herself. She admits in the November issue of Elle that she "didn't forsee it, that you can meet somebody who you have a deep and more profound love with." However, when the actress met country star Keith Urban, Nicole had moved "into a stage where you're able to be a more fuller person in your relationship," a loving bond that she is sure Tom has with his wife, actress Katie Holmes. While both couples seem to be thriving and completely content in their marriages, Nicole wants to make it clear that although she claims to have found a more profound love and would not recommend her kids getting married at such a young age, she is in no way looking to denounce her relationship with Tom. "I don't want to take anything away from the 11 years with that man that were really important," says Nicole. Sharing that her family with Tom — including daughter Isabella Jane, 15, and Connor Antony, 13 — "were amidst a lot of love," she goes on to say that "now we're amidst a more evolved loved."
Recently discussing her experience in what she calls Australia's fertility waters, Nicole is confident that "nothing was stopping" her daughter with Keith, Sunday Rose, now 3 months, "from coming into the world." As for being a new mom for the third time, Nicole admits that she feels very protective of her children, comparing herself to "a lioness" as she shares that the couple were never planning on introducing their baby girl on a cover of a magazine. "I'm like, 'No one gets near my babies!' That's why we chose not to sell photos of her. We just want to have our little cocoon," explains Nicole. Not alone in her desires to shield her children from the spotlight, Nicole shares that Keith — who Nicole says "gave me a life, gave me a home" — is in complete agreement, as she credits him as "the greatest man, besides my dad, I've ever met." Although beyond thrilled to have three kids, Nicole is aware that having a baby in her 40s is much more bittersweet.
"At 41, it's more of a painful love. I look at that little girl and I'm like, 'Oh, no, what's going to happen?' It's almost like my heart is stretching; I'm feeling all the muscles stretch with emotion. It's a beautiful love, but there's a lot of fear and pain for her life, and for Bella and Connor's life."
Source: Elle