Motherhood Has Been Healing, Says Molly Shannon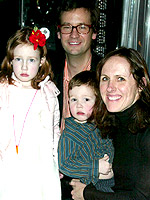 WENN
When Molly Shannon finally got her big break and signed on for Saturday Night Live, she was committed to putting all of her energy and focus on her work. However, as her time on the show was coming to an end, Molly realized that she was "looking for a serious boyfriend" who could ultimately become her husband and the father of her children. After meeting her now-husband, Fritz Chestnut in 2000, Molly was convinced he was the one. The couple welcomed their daughter Stella in September 2003, wed in May 2004, and welcomed their son Nolan in March 2005. With such a short gap between the events, Molly acknowledges that she "wanted to have kids. I was very clear about what I wanted."
These days, Molly has moved her family from New York City to Los Angeles where her new show Kath and Kim is filming. Admitting she "took a leap of faith" with the move, Molly shares that her journey through motherhood has been just that — a journey — after losing her own mom in a car accident at only four years of age. In fact, Molly often laughs that she is often left thinking, "I wonder what my mom would think about this!" Essentially growing up without a mother, Molly explains that when it came time to birth her own children, with no guidance from her mom, the 44-year-old spent her first day in labor out on the town! "I called my doctor and said 'I think my labor is starting,' and she said I should go about my day. So I went to Starbucks. I went to a street fair. I got a super-straight blow dry so I could look nice while pushing. Finally, my husband was like 'Will you come home?'" Becoming a mother herself has helped Molly deal with the death, as she shares that having two children is "very healing."
Click 'More' to see what 3 ½-year-old Nolan thinks Molly does for work.
With Stella and Nolan in L.A and often visiting the set of Kath and Kim,Molly realizes that her kids are beginning to get an understanding ofwhat their mother does for a living, albeit a very small one! Whenprompted by Molly as to what her job is, Nolan was quick to respondthat "you put on nails and you color." Molly explains that Nolan seeshis mom's long nails for her role — and often takes full advantage andasks for a back scratch — and remembers that in between takes, thepair spend time in her trailer having fun and coloring. For theactress, the simplicity of looking at the world through a child's eyesseems perfect, as this comedienne/mom concentrates on letting her kidsbe kids.
"I encourage silliness. I like when they act wild."
Molly's sitcom, Kath and Kim, which also stars Selma Blair, premieres October 9th at 8:30 p.m. on NBC.
Source: Page Six