Brewers' Mike Cameron Welcomes Daughter Lilo Christina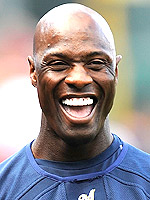 Jeff Zelevansky/Getty
Milwaukee Brewers' center fielder Mike Cameron wasn't expecting his fourth child until the first week in November, so it was quite the surprise last Friday, October 3rd when he was told his baby girl was on her way! Upon getting word that his wife JaBreka was on her way to the hospital, Mike hopped on a chartered flight back to Atlanta, Georgia, but unfortunately just missed his daughter's birth at 2:54 p.m. Soon after baby girl Lilo Christina — who was delivered via cesarean, weighing 4 lbs, 13 oz. and measuring 17 inches long — made her entrance, Mike was informed that both the newest addition and JaBreka, were doing fine. Although Mike, 35, was thrilled to see his wife and meet his new daughter, he admits that he is still in a bit of shock!
"I have no idea why it happened so early, but it did and it's a blessing. I'm in awe about it a little bit."
Luckily for Mike, Lilo made her big debut on Friday which happened to be a day off for the Brewers. Had the baby come on a game day, the team, who are in the middle of the National League Championship Series, would have had to either replace Mike on the roster or keep him on the list, but play one man short.
The couple are also parents to daughter T'aja, 8, and sons Dazmon, 12, and Mekhi, 7, who reportedly helped in choosing Lilo's name before heading back to Milwaukee with Mike to allow JaBreka some much needed rest.
Source: MLB
Thanks to CBB readers Mandy and Stephanie.