Melissa Joan Hart on the 'Messiest Job Ever'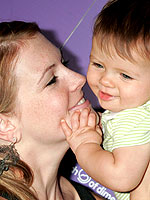 David Livingston/Getty
It's hard to stay above the fray when potty training a toddler, and Melissa Joan Hart says that in the process of going diaper-free with 2 ½-year-old Mason Walter she's learning that no topic — or term — is off limits. Calling it the "messiest job ever," the 32-year-old actress and her husband Mark Wilkerson have found potty training to be a humbling experience. "Everyone says when you become a mom you talk about things you've never spoken about before, and it's true," Melissa said during a Friday appearance on The Bonnie Hunt Show. "I've never used the word poop so much in my life."
"It's ridiculous. It's kind of disgusting, but at the same time, it just kind of flows off the tongue now. We used to call it '#2,' just to be mysterious about it. Now we call it 'code brown,' or 'He's got a present for us.'"
Although Mason "has gotten the hang of" potty training, Melissa says the couple still have "some horror stories" to share. Their son is still in a diaper when the family is traveling, and on a recent flight he went with mom to check out the airplane's bathroom. Mason asked Melissa if he had a diaper on, and when she replied yes, he asked to go potty in his diaper; Melissa gave him the go-ahead, which "worked well because we were in the [bathroom]," she says. He apparently had difficulty making the distinction between going in-flight and going on the ground, however! While waiting in line for their rental car, Mason again asked Melissa if he had a diaper on — when she again said yes, he announced to everyone within range: "I'm gonna poop now" — and did!
His potty training progress is surely coming in handy at preschool, which Mason just started. Calling her son a "crazy, kooky guy," Melissa says Mason's favorite thing to do at the moment is sing songs "at the top of his lungs." He's often not alone. The day before her appearance, Melissa joked that Mason asked her to sing the 'female deer' song — Do-Re-Mi, from The Sound of Music — "like 30 times."
In addition to Mason, Melissa and Mark are parents to 6 ½-month-old Braydon 'Brady' Hart.
Source: The Bonnie Hunt Show