Grand Touring Baby's i'coo Targo: You're Never Too Young for German Engineering
It seems like there are now two categories of strollers: high tech or designer models that cost an arm and a leg, and mainstream, lower priced models that lack the features and performance that you really crave. The i'coo Targo by Grand Touring Baby ($600), just put a stake in the sand, delivering all the performance and features, without the traumatic sticker shock.
Click More for Ciaran's in-depth review of her favorite new all-around stroller.
The Seat/Frame
The  i'coo Targo is comprised of two main parts, the stroller base and the seat/bassinet frame. With a simple change of fabric you are able to reconfigure the seating unit to switch between a reversible seat and a bassinet.
All of the fabrics used on the seating and bassinet are durable,high quality and attractive. Choose from Starry Night Black,Marine Blue, Mocha or Houndstooth fabric palettes to best suit your style. The fabric parts of the stroller are removable and washable, so you know your stroller will keep on looking classy for a good long timeno matter how many Goldfish find their way into the crevices.
The Targo's seating was obviously made with comfort in mind. This means that the seats are ergonomically designed and we noticed the thoughtful touches such as an extra padded headrest and backrest.  I was impressed with the padded footrest that keeps younger children's legs from dangling unsupported.This footrest can be removed for older riders.
We found the stroller very stable and non-tippy for both our infant and toddler tester. Switching between forward and rear facing modes was a breeze because the seat only weighs 8 pounds. I felt that the five point harness contained my little 5 month old wiggler very well and comfortably with the added padding. The fasteners did not pinch and were easy to quickly open and close. My one concern was that the webbing straps beneath the padding tended to twist if care was not taken to untwist each time you put your child in and out. (It wasn't a big deal,and is something we find true with many stroller restraint systems.)
Perhaps the most original and engaging feature is its frame's heightadjustability. With the touch of two side levers the entire seatingunit (or bassinet) on the stroller lifts up to table height, or closerto a parent. This allows for extra room to store packages in thegenerous under carriage basket and allows you to wheel your toddlerright to the table when dining out. It also means less stooping overfor c-section moms who are using this bassinet in the first weeks. I'ma huge fan of higher up strollers so I kept it in the tall mode almostall the time. One of the nice things about lowering it is that it madethe stroller very easy for my toddler to climb into on his own.
The brake on the Targo was easy to engage by stepping down which prevents you from scuffing your shoes when disengaging.
Folding the stroller is extremely easy and can be accomplishedwithout removing the seat when it is in forward facing mode. With theseat and wheels removed this stroller takes up very little space – agreat boon to city dwellers and those with small car trunks. If youwant to really get it super compact, you can remove the seat and thenalso easily pop off the wheels. It'sa snap to disassemble and re-assamble the parts. For a closer look at how the stroller sets up, folds and adjusts, check out the i'coo Targo Demo.
The Targo is definitely not lightweight, weighing in at only 22 pounds in total. The frame without the seat is a mere 14 pounds- afeat for such afull featured ride.
Not skimping on anything, the Targo has includeda built-in bunting bag that is hidden and attached to the footrest (itwon't get lost!). They also provide you with a universal car seatadapter that works with 14 different brands of carseats. Between theability to use a car seat, bassinet, and toddler seat, it is possible that this will bethe only stroller you ever need.
The Ride
The Targo has one of the smoothest rides I've experienced, thanks to lightweight closed-cell EVA tires with sealed bearings. The EVA tires also mean a smooth ride with no chance of a flat tire ever. This stroller does not rollso much as glide. The turning radius is amazing, you can practically spin it in a complete circle, standing in place. The stroller adjusts between upright and reclined very smoothly also, at the touch of a button. Which is a very good thing. Once my baby falls asleep and I find myself with the opportunity for peaceful shopping, the last thing I want is for him to be startled awake when I tip him back for a nice long snooze! Similarly, the hood adjusts without any loud pops or creaking.
The Targo boasts one of the most height adjustible handlebars I've everseen. I think everyone from a five year old to an NBA player canprobably find a setting at which it is comfortable to push thisstroller.
Overview
Grand Touring Baby has done it again. They've delivered a fully loaded luxury class stroller for a more mainstream price.  The i'cooTargo delivers all the amenities a discriminating parent wants, andthen some, without dipping into the baby's college fund.
Pros
Really smooth ride
Comes with everything you need including bassinet and carseat adapter
Adjustable height feature
Cons
May not appeal to parents who don't need a bassinet and/or infant car seat compatibility
Limited basket access when stroller is in lowest height mode
Webbing on five point harness has tendency to twist if you are not careful
Technical data
Handle height: 23.5 – 42 inches
Length of seat: 10 inches
Lying area: 31.5 inches
Width of seat: 12.6 inches
Width of stroller: 23.5 inches
Max. angle of inclination of backrest: 113-168 degrees
Wheel diameter: 7 inches (front) and 11 inches (rear)
Weight of stroller: 22 pounds
When folded: 44×18.5×23 inches
Recommended maximum weight capacity: 45 pounds
— Ciaran
CBB Deal: Get a free Carry You Demi Milan Organizer (a $30 value) when you use purchase a Targo using coupon code TARGO-CBB at strollermama.com, plus as always, free shipping with all purchases over $99.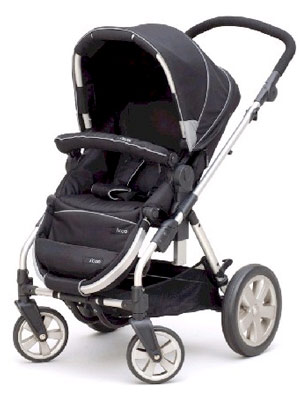 i'coo Targo with toddler seat in Mocha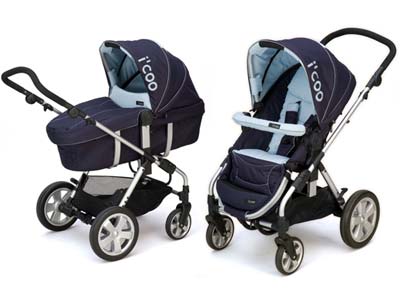 i'coo Targo in Marine, with bassinet and toddler seat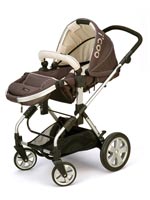 i'coo Targo in Mocha with reclined seat