For Mary-Louise Parker, Adoption Was a Childhood Dream Come True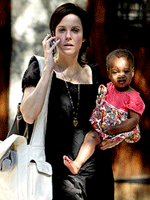 Alastair Macpherson/Splash News Online
Mary-Louise Parker often reflects back on her childhood, wishing her parents would adopt a sibling and promising herself that someday, she would adopt a child of her own. Now mom to Caroline "Ash" Aberash, 2, the 44-year-old actress says the adoption from Africa was a dream fulfilled. "I think it's something everyone should do if they can and wantto," Mary-Louise said Saturday night at the New Yorker Festival in New York City.
"I can't adopt 500 children, but I did adopt this one beautiful little girl and it was an amazing thing. Especially after having been to a Third World country, and having seenthe desperation there, and the need, and all the children, and holdingthose children and seeing them and touching them."
Mary-Louise said that she recognizes that the need for adoptive parents is just as great in the United States as it is abroad, but believes every child should have a chance at a great life, regardless of geography:
"I hear the comment, "Why not adopt from this country?" There's a lot of need in this country. And I think if you want to adopt anywhere it's a beautiful thing, but it's not a contest. So you shouldn't say "Why don't you adopt this child over that child." A child is a child and every child deserves to be loved.
If was a contest, however, a Third World country is different from, say, Baltimore. It's different when there are dead bodies by the side of the road and parents having to amputate their children's limbs so children can beg to get money, and mothers are having to sell their daughters into sex slavery. It's a different thing, so I don't think you should make it a contest when it comes to children, and who's deserving of love and who's deserving of a family. Every child is deserving of that."
Click 'More' to read about Mary-Louise's work with the Worldwide Orphans organization, and for an update — exclusive to CBB — on son William Atticus, 4.
The actress was busy Saturday, filming a clip with Ash for Worldwide Orphans — the organization helped Mary-Louise to find her daughter — before stopping in to speak at the New Yorker Festival. She shared that she broke bedtime rules to get Ash up and out for the nighttime shoot.
"She was asleep obviously," Mary-Louise said. "I'm very scheduled, so shewas asleep. I had to quietly wake her up — I never wake up mychildren — but [I told her] it was for the other orphans of the world."
A single mom — Mary-Louise and actor Billy Crudup split while she was pregnant with son William — the actress claims she's ditched glitzy New York City parties for evenings in with her children in recent years. "I get a lot of invitations to go to a lot of things, and I don't go tolots of things because I want to put my kids to sleep at night," shesays.
Though her family of three is content, Mary-Louise says they do deal with the typical verbal attacks from random strangers or the paparazzi. On a recent trip to Disneyland, Mary-Louise and William took a liking to the Peter Pan ride — so much, in fact, that they stayed on the attraction for nine loops in a row! When relaying the story to an acquaintance, Mary-Louise said she was criticized for receiving special treatment because she was famous — the acquaintance implied such liberties wouldn't be granted to a non-celebrity family without a VIP pass. In defense of her son's right to have fun, she said:
"William thinks that everyone who is met [when arriving] at the airport is met by creepy people who run after them with flashbulbs and scream — and follow him when he gets off the plane and follow him through security when he's throwing up — and still take his picture and scream his name. That's the trade-off. So yeah he gets to ride the Peter Pan ride nine times!"
One thing Mary-Louise is able to shield William from, though? The subject matter of her hit show, Weeds. "He thinks I'm on a show about plants," she laughed.
Source: PEOPLE