Diane Lane on Her 'Shifted' Approach to Parenting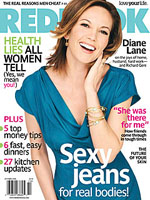 Courtesy Redbook
When asked by Redbook magazine what it's like to watch as her daughter Eleanor Jasmine, 15, and step-daughter Eden, 14, enter into their formative years, actress Diane Lane doesn't sugarcoat her answer: "Scary. Humbling. Poignant. Challenging. Frustrating." Now that boys are coming onto the scene, Diane says she's been fielding questions that "just knock my socks off…But hey, bring it on!" Her can-do approach to parenting was "completely shifted" recently after reading Get Out of My Life, But First Could You Drive Me and Cheryl to the Mall? So impressed is Diane with the book, she feels that "they should hand a copy to every mother when their daughters hit 12."
"The basic premise is, you do not need to justify your decisions as a parent to your children. Your job is to set the boundaries and keep your kids safe. So now, when my daughter says, 'Why, Mom? It's not fair!' my smile just gets bigger and more beatific, but I don't budge and I don't explain. I might say, 'I know it's not fair,' but that's all."
By giving into their kids or trying to be a friend instead of an authority figure, "you watch your status and your usefulness as a parent disappear," the 43-year-old actress says. From the sound of things Eden's dad — Diane's husband, actor Josh Brolin — didn't need a book to figure it out. "He tends to be a little more strict," she explains. "I can roll with a lot of 'tude from the young'uns…Josh, no way! He's much more comfortable being unpopular than I am. I tend to be a pleaser."
Click 'More' to read about how Diane and Josh deal with discipline in a blended family.
With that said, Diane acknowledges that discipline in a blended family can be "complicated."
"Iremember I was upset with the girls about something once and mydaughter said to me — in front of my stepdaughter — 'You takeeverything out on me!' My stepdaughter said, 'Hey, I'm right here.' Butit's true — the way I understand stepparenting is you're more thecheerleader than the disciplinarian with your stepchildren."
BecauseJosh has a "different style" of parenting, Diane admits she issometimes grateful that he is willing to be more stern with the girls.Regardless of who is in the wrong or who is in the right, Diane revealsthat "the great news is [that] the girls are good friends." "I thinkgrowing up together is making them better people," she adds. Eleanor isDiane's daughter with ex-husband Christopher Lambert. Eden is Josh's daughter with ex-wife Alice Adair, with whom he also has a son, 20-year-old Trevor. Diane and Josh have been married since 2004.
Diane's latest film — Nights in Rodanthe — is in theaters now.
Source: Redbook