Constance Zimmer Credits Portion Control For Weightloss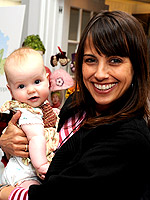 Shawn Ehlers/WireImage.com
When it comes to losing baby weight, nursing moms need to walk a delicate line between taking in enough calories to sustain their milk supply and not so many that the scale goes in the opposite direction. Constance Zimmer — who welcomed daughter Colette Zoe, 9-months, in January — says that for her, returning to pre-baby form was "all about portion control." Noting that "you need to eat so much food after you have a baby to breastfeed," Constance took the guess work out of the equation by signing up for Fresh Mommy — a service that delivers organic, healthy food to your door. She also engaged in low-impact exercises like walking, but amped up her routine by adding a four pound weight vest. Her efforts have paid off, but the 36-year-old Entourage actress admits that she lost the weight sooner than she probably would have had she been in a different profession.
"It's been eight months. This industry doesn't give you any time to take off the baby weight. It kind of has to happen right away."
Leading an active, healthy lifestyle isn't only beneficial for Constance's career, of course; now that she's a mom, she says she wants to be well for the sake of her daughter as well. "[Motherhood] makes you think about things like the fact that, 'Oh, I need to make sure I have all of my immunities and booster shots,'" Constance says. "Now you are responsible for somebody else and I need to be here on this Earth for as long as I possibly can to help her." Calling her daughter "pretty fantastic." Constance says she feels "really lucky that she's such a good baby."
Colette is the first child for Constance and partner Russ Lamoureux.
Source: OK!