Former Blue Member Lee Ryan Expecting a Son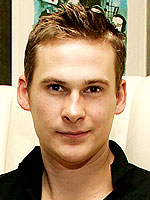 Eamonn McCormack/Wireimage
Update: The couple have shared with Hello! that the baby they are expecting is a little boy and that they are "so excited." As for the name, that's still up for grabs. Samantha shares that, "All along we've been planning to call him Rain, [but] now I'm not sure," while Lee admits, "I still love the name — Rain Amethyst Ryan — it sounds great."
Originally posted June 23rd: Lee Ryan, formerly of UK boy band Blue, is expecting his first child with girlfriend Samantha Miller, 20. Although either of them have yet to officially confirm the news, they plan to marry later this year.
The 25-year-old's mum, Sheila, 48, is happy for her son.
Sammy is a really lovely girl and she and Lee are really happy. The wedding arrangements haven't been made yet.
The pair met after Samantha posted provocative photographs of herself on the singer's official Myspace page.
Source: Sunday Mirror