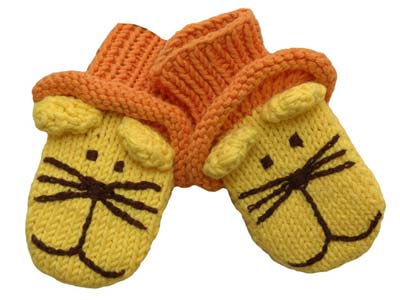 Zooni M'uppet Mittens in Leo The Lion
If you read our previous review of Zooni, you know that this San Francisco-based company makes (by hand!) some of the cutest hats around for babies and toddlers. Now — by popular demand — they've added 100% cotton hand-knt and -crocheted, fleece-lined M'uppet Mittens ($18.50) to match! Each pair coordinates with popular preexisting 'Mop Top' hat styles like Leo the Lion, Flower Power and Puppy Love as well as Zooni's new hat/mitten style Chunkee Monkee. A matching set of M'uppet Mittens and a Mop Top makes a one-of-a-kind birthday present for a fall or winter baby, or a thoughtful Christmas gift.
M'uppet Mittens come in size 1 (fitting 18M to 3T) and size 2 (fitting 3T-5T). I like that Zooni has opted not to bundle them with their Mop Top counterparts, because our boys often need hats in bigger sizes than their mittens…so I appreciate having that flexibility in ordering. As with the Mop Tops, caring for your M'uppet Mittens is easy — simply machine wash cold, and line dry!
– Missy