Angelina Jolie: I've Been Running After Kids and Nursing the Twins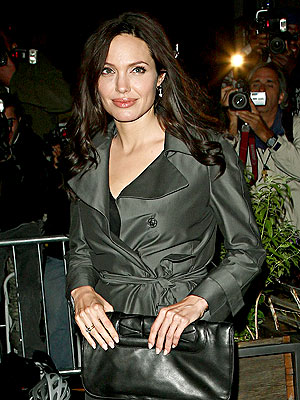 Jackson Lee-Tom Meinelt/Splash News Online
In one of her first few public appearances since welcoming Knox Léon and Vivienne Marcheline, actress Angelina Jolie admits that she was "not nervous" strutting her stuff on the red carpet for the premiere of her new movie Changeling, but did have to stop and "take a deep breath because it's been so long." As a mom of six, Angelina was quick to admit that her role in the movie as a mother whose son is abducted was extremely eye-opening and had her — quite literally — counting her blessings after filming. "Your worst fear is anything happening to your kids. Every day I came home, and I was so clinging to my kids. I was grabbing them. And checking them in the night. It scares me," says Angelina as she explains that for the same reasons, she "didn't want to do the film for a long time."
Since the birth of their 3-month-old twins, Angelina and actor Brad Pitt have been spending most of their time at a chateau in France with their brood — which also includes Maddox Chivan, 7, Pax Thien, 4 ½, Zahara Marley, 3 ½, and Shiloh Nouvel, 2 — spending time together as a family and enjoying life. While the 33-year-old shares that "the babies are getting big, and healthy, and developing personalities," like most parents, two new babies in the house means many sleepless nights for the adults! In an effort to not surrender completely to sleep deprivation, Angelina says that the couple do have "some help a couple of nights a week," and wisely use those few opportunities to "catch up on our sleep." The actress tells ET,
"We try to keep them on the same schedule, feed them every certainamount of hours, wake the other up if the other got up so they stay upand go down at the same time. But the girl is much more demanding!"
Sharing her secret to staying fit after delivering twins, Angelina credits her post-baby body to active kids and hungry babies! Saying she is feeling "great" and is "very happy" that her kids are healthy, these days Angelina is all about running "around with all of the other kids" and "breastfeeding, which I think is a part of your body's recovery." "It's genetics," Angelina notes. "Certain peopleare different in their shape. But I'm breastfeeding and I think that'sit. That's how your body naturally responds."
As for more children to chase after in the future, Angelina reveals that the family is "going to wait a little while" before adding another baby to the mix, but that they'll "have more kids. One way or another."
Angelina's new movie, Changeling, is in theaters October 31st.
Source: PEOPLE; Entertainment Tonight; OK!