You Said It: Five Great Comments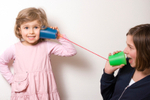 istockphoto.com/wojciech_gajda
CBB was once again buzzing with commentary this week, on everythingfrom body image and natural births to nannies and fertility struggles. You all had a lot to say, and we lovedreading every word! Here's a look at five great comments from the past week:
Posted by crimpe on Melissa Joan Hart Rethinks Her Natural Birth Decision:
It's great she was able to experience both, and come to her ownconclusions. I have four kids, so four different birth experiences. Twowere natural, two were, uh, "unnatural" (?) and I would take theepidural any day. Funny, I found that I rebounded faster with theepidural births quicker than the others. Whatever one's views, it justseems that every woman's body is different and people responddifferently. It's all about the end result!
Posted by MB on Dara Torres Hopes to Teach Tessa the Importance of Exercise:
I don't think we can really judge on the exercise she did afterbirth. I mean, she's an Olympian! What is fine for her is probably notfine for everyone else, and she has several doctors monitoringeverything she does. And what does "back in the pool" mean anyway? Itdoesn't mean, necessarily, that she's doing a hard workout. She also doesn't talk about weight loss. She simply talks aboutbeing healthy. I am almost finished with my masters in public healthand it is SO important to teach children young that exercise is fun andimportant. Good habits start early.
Click "More" for three additional comments.
Posted by Eva on Jools Oliver Shares Her Fertility Struggle, Hopes For Another Girl :
"Even if adoption weren't extremely difficult, NOTHING compares to carrying and giving birth to a biological child!"
I agree. Also NOTHING compares to the moment when your adoptivechild, the little one who didn't know you from day one and passed fromhand to hand before being yours, comes to your house and finds outshe/he is HOME and with her/his MOTHER. I am fertile and have goodchances of carrying a healthy child to term, but I choose not toexperience it and instead have all the beauty and the sweetness of lifethrough adoption. Nothing is missing in my life.
Posted by K on Brooke Burke Enlists Mom's Help For a Night's Rest:
I know it is hard for Moms to hear their babies cry. The morepersistent the baby, the more difficult. With my second son, I was up,still nursing at night when he was 9 months old. My oldest son hadslept through the night at 3 months! My husband finally sat me down andsaid, "He is fine, he is not hungry, he is growing and thriving, he needsto learn to sleep through the night." I knew his cries at this point, ifit was a sick cry or dirty diaper cry, I would have gotten up. It tookone night of him crying for about 20 minutes and the next for about 10. The third night,he slept through the night. It is hard but so worth it!As long as you know your child is not sick or stuck in the crib orsomething. Listen to their cry. Moms will know. Sleep is important foreveryone!
Posted by Allison on Eden and Savannah Have Their Hands Full! :
As the working mother of seven month old twins who are a handful, I caneasily imagine why you would have two nannies if you have twintoddlers. Especially if you can afford it. Toddlers test boundaries andI would much rather have two caring competent people to keep an eye onnew walking/running babies.
Send us your favorite comments at CBBTips@gmail.com.