Lance Armstrong Was Worried His Kids Would Spill the Beans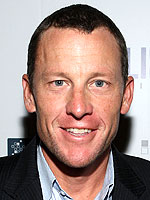 John Shearer/WireImage
More than three years after announcing his retirement, Lance Armstrong has gotten the biking bug back and is ready to compete in yet another Tour de France. Determined to win the race for the 8th time — and more importantly, raise cancer awareness — Lance reveals that his goal rested on the shoulders of one person: his ex-wife and mother of their three kids, Kristin. "Quite frankly, if she had said, 'I don't support it,' or 'I'm not into it,' I wouldn't have done it," says the 37-year-old cancer survivor. However Kristin, who "has been an amazing supporter," was ready to stand behind Lance and continue to be "very flexible and just amazing with the kids." After all, with a demanding training schedule to prepare for the race, Lance is the first to admit that "I need that from her" to do this.
With Kristin's approval, Lance was ready to break the exciting news to their three kids — Luke, 8, and twin daughters Grace and Isabelle, 6 — making sure to take precaution that his big announcement wouldn't leak out to the public. Starting with Luke, Lance explained his decision to continue to advocate for cancer research and his choice to return to racing. Aware of the fact that he was sharing exciting news with a young child, Lance — who had warned Luke to not say anything to the twins — "fully expected him to tell them." However, Lance was in for a bit of a shock when he finally decided to let the girls in on the secret and realized that Luke had kept his promise!
"I had to tell them, 'Don't go to school and tell everybody.' When it finally came out, they said, 'Okay, now can we tell everybody?'"
Lance — who set a record when he won the Tour de France seven consecutive years — is racing in hopes to bring even more awareness to cancer research and his foundation, Livestrong. With the Livestrong Global Cancer Summit scheduled at the end of the Tour de France, Lance is looking for a large turnout and says that his goals are to "change the face of the disease worldwide, to increase funding, increase education, and erase the stigma of the disease in certain cultures."
Source: PEOPLE