Formula One Driver David Coulthard Expecting First Child, a Boy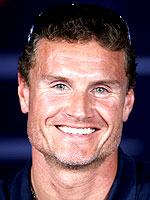 Paul Gilham/Getty
British Formula One race car driver David Coulthard is expecting his first child — a baby boy — with his fiancée Karen Minier. The couple's first child together is due in December and according to the proud papa, his son couldn't come at a better time! "The baby is due after the end of the season, so things have worked out perfectly," says David, who has also announced his retirement from the sport.
Although David insists that his retirement and the birth of his son are simply coincidental, he admits that this season will be his last time on the track. Originally from Scotland, the soon-to-be first time dad is "really excited about the baby," and already has future goals in mind for his baby boy! David, 37, jokes,
"He'll be signed up for Ferrari in 2028!"
Source: The Scottish Sun
Thanks to CBB reader Jenna.