My Favorite Stroller… Maclaren Quest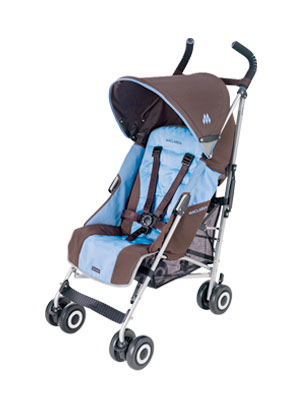 Maclaren Quest Sport in Coffee Brown/Sky Blue
Like most parents, my husband and I quickly learned, that when it comes to strollers, the all-in-one rarely ends up being the ONE. From travel system strollers to carriages, to joggers and umbrellas, every stroller has its benefits, but nothing has become more irreplaceable in our stroller line up than our Maclaren Quest ($225).
After three years and many miles, our little buggy is not just holding up, it's still going strong. Lightweight and compact, the Quest offers the safety and stability of a heavy-duty stroller as well as the versatility and convenience of an umbrella. Its dual-swivel wheels make steering a breeze and hold up to even a challenging urban landscape while the compact design make it easy to carry and store. Unlike many cheaper lightweight strollers, the Quest offers a 4-position recline as well as an adjustable leg rest, two features that definitely add to your little ones comfort.
And let's face it, the more comfortable they are, the more likely they are to stay in the stroller! With a variety of fabric designs, you are also sure to find something to suit your style. (The Quest line actually includes two categories: Quest Sport and Quest Mod – the chief difference being that that Sport consists of solids while the Mod includes patterns, which change annually.)
The downside of the Quest is that doesn't offer the smoothest ride on rough terrain. It also lacks the amenities of other popular strollers such as cup holders and ample storage. That said, if you are looking for a workhorse, the Maclaren Quest doesn't disappoint.
— Elena