Liam Neeson Says Sons Are Impressed With His New Physique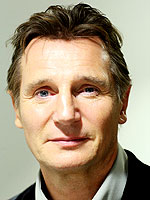 Getty
In his latest film Taken, Liam Neeson plays a father spurred to action after his grown daughter (played by former Lost actress Maggie Grace) is kidnapped. That he himself is dad to Micheál Richard Antonio, 13, and Daniel Jack, 12, with wife Natasha Richardson made the subject matter particularly poignant. "It just had a double impact with me," the 56-year-old actor recently told GMTV. "I think for any parent, the worst thing you can imagine in life is your child being taken and not knowing what's happened to them."
Both boys have seen the film and gave it their "seal of approval" — but Liam said they were even more impressed by the buff physique he took on for the role. "They said 'Dad, that's cool!'" Liam recalled. "And that was about the highest praise you can get." As for Schindler's List, for which he received an Oscar nomination in 1993, Liam intends to show the legendary film to his oldest son soon. "I haven't seen it myself in several years, so I want to watch it again, with [Micheál] and some of his peers," Liam said.
Taken is slated for release in the United States in January 2009.
Source: GMTV