Fran Healy Loving His New Family-Friendly Neighborhood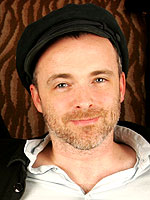 Dan Tuffs/Getty
Travis lead singer Fran Healy recently made the move from London to Berlin with wife Nora Kryst and the couple's 2-year-old son Clay. Although he feels that London is "a really fantastic city to live from [age] 18 and up" Fran says it just didn't feel right for the young family. "I think with kids, maybe they have to grow up sooner [in London]," Fran mused. "I just wanted to go somewhere where my son can have more of a childhood." His wish has apparently come true in Berlin. Says Fran,
"In the area I live there are 60 playgrounds. Where I was living in London, Crouch End, which is the same size, there's two. There are different values, the cheaper way of living means families have more quality time, everything just feels a bit lighter."
Fran and Nora, who is of German descent, have been together since 2000. The latest studio album from Travis — Ode to J. Smith — is scheduled for release on October 7th.
Source: Yorkshire Evening Post