Balboa Baby Adjustable Sling: A New Sling Endorsed by Dr. Sears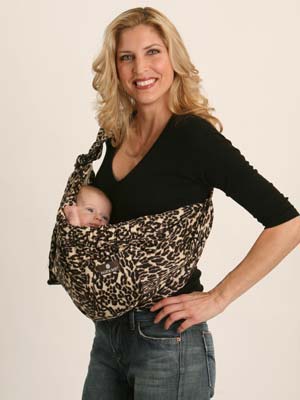 Balboa Adjustable Sling in Leopard
My husband and I have 4 month old twin boys, Jake and Owen, and are diehard Baby Bjorn wearers so the newest sling to be endorsed by renowned pediatrician and attachment parenting proponent Dr. William Sears, the Balboa Baby Adjustable Sling ($59.99), had a high bar to get over. This sling is made from lightweight yet durable fabric and can be adjusted easily in length with one end tightening through a set of two rings. I generally wear one baby to free my hands to do things around the house or play with my older 3 year old son, Dylan. Both my boys (separately!) enjoyed sitting facing out and the large pouch enabled me to arrange their legs comfortably. It was so roomy that I actually put both babies in for a few minutes, less for practical usage but more to get a cute photo!
Pros: Very cute and stylish patterns make wearing this more fashionable than the traditional bjorn. It was also simple to use and didn't require a lot of wrapping/straps etc. It was great for standing at the playground supervising Dylan. Jake or Owen could see everything going on and be close to me.
Cons: My twins are each 12.5 lbs and getting more active by the day. I felt they were not as secure in the sling as in the Bjorn and I was not as comfortable handling chores and other active movements for fear they might fall out. Also, while the sling length is adjustable, even at its shortest, it still hung a bit low on me and I am not short (5′ 7"). Seem best for taller moms (and not dads: my husband's manhood would not allow for using this sling!) with babies 4 months or younger.
— Jennifer O.
Note from Danielle: Ring slings can be a little trickier to adjust than pouches or other babywearing implements.
Available at Target.com.