Niki Taylor on Raising Teenage Twins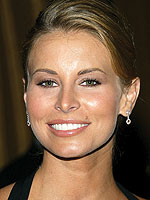 Rena Durham/KPA/ZUMA
As a single mom to her 13-year-old identical twin boys Jake and Hunter for most of their lives, Niki Taylor knows the key to their hearts — like most men, it's through their stomachs! "I always know what they want to eat! If they have a full tummy, they're in the best mood," says the model. As the boys' primary caretaker for many years, Niki has taken on the role of both "good guy and bad guy" when it comes to disciplining the pair. Although she shares that "now that they are in middle school, they would say I'm a lot more meaner," she goes on to reveal that they don't always have it so rough. A house rule for some time now, Niki has always been against taking drinks upstairs in the bedrooms since "they always forget to bring it downstairs," but the mom can't hide that she often lets them break that rule…"a lot!"
Entering into the teenage years, Niki, 33, says that she does have her ways of embarrassing her boys and doesn't mind who is watching! "You might think that it's really funny, but we spank bums for fun. That would probably embarrass [them] because I do it in front of everybody too," laughs Niki. Between making rules and breaking them, working and being a mother, and raising two teenagers, Niki insists that there is nothing she wouldn't give up for the sake of her sons.
"There is absolutely nothing that I refused to give up when I became a mom. I knew I wanted to be a mom at a very young age."
Jake and Hunter are Niki's kids with ex-husband Matt Martinez. She is now married to NASCAR driver Burney Lamar.
Source: Glamour TV