Jennifer Garner Gives Us a Belly Peek!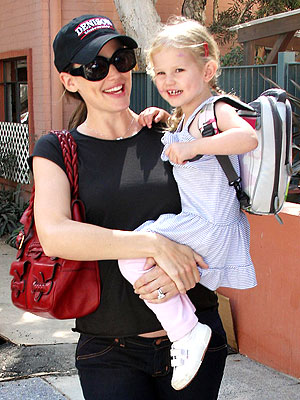 Revolution Pix/Ramey
Peekaboo! Jennifer Garner shows a sliver of belly while picking up 2 ½-year-old daughter Violet Anne up at school on Wednesday in Santa Monica. The pair were full of smiles as they walked back to their car.
Jennifer, 36, and husband Ben Affleck expect their second child this winter. The couple are keeping baby details private at this time.
Violet wears Little Marc Jacobs Beth dress in Tinted Mauve ($99).
On her back is a Fleurville Lunch Pak in pink ogo ($32).
Violet also wears Superga's classic shoe with velcro in white ($45).
Jennifer carries a Valentino Histoire bag in red ($1575).