Dara Torres Hopes to Teach Tessa the Importance of Exercise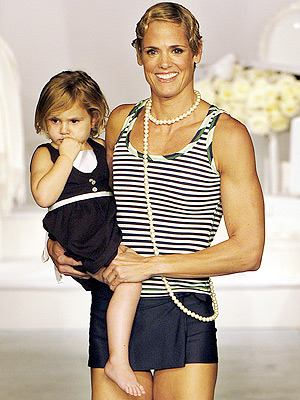 Warner/WireImage
Olympian Dara Torres was well aware that competing in this year's Beijing Olympics "against athletes who were young enough to be my children" meant that the 41-year-old mom needed an extraordinary workout plan designed especially for older women. While Dara had the ability to "put together a team of experts," she knows that most people can not afford this luxury, but insists that working mom or not, "you can always try to find little ways to do a little bit of exercise each day." Mom to 2 ½-year-old daughter Tessa, the swimmer shares that simple choices to "take the stairs" at work, instead of the elevator, really can make a difference.
As for pregnant women, Dara shares that her pregnancy did not stop her in the least! After finding out she was expecting, Dara says she immediately developed a plan with a trainer outlining weights and routines she was able to do during those important nine months. Aside from the gym, exercise was key for Dara, who reveals she "swam the same day I delivered Tessa, before I went into labor!" Not letting any obstacles stand in her way when it comes to staying in shape, Dara — who was back in the pool a week after giving birth — hopes to instill the same healthy choices in her daughter.
"Exercise was very important to me growing up, and I am already trying to teach Tessa how important it is. The funny thing is, she already loves it."
Tessa is Dara's daughter with partner David Hoffman.
Source: USA Weekend