Ali Landry Tells Moms To Honor Their Bodies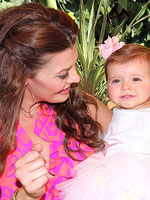 Clark Samuels/StarTraks
Ali Landry has a message for new moms fretting over their postpartum bodies: "Give yourself a break!" In a new interview with Tasty Baby, the 35-year-old actress and former Miss USA says that while she recommends eating healthy meals and drinking lots of water because it provides the energy needed to care for and nurse a baby, losing weight shouldn't be the focus. "You have just gone through the most miraculous experience and you really need to honor your body," Ali says.
In returning to her own svelte pre-baby form after welcoming daughter Estela Ines, 14 ½-months, Ali admits that she did enlist outside help. "I had meals delivered by a company called Chefs Diet so I could make sure that I was getting balanced meals with enough calories to sustain my milk production," Ali explains. "Also, it was awhile before I started working out again, so I was really depending on my diet solely to gradually bring my weight down." Despite the flattery associated with being named one of People's 50 Most Beautiful People, Ali says she exercises and eats well for herself, and her family only.
"I love the way it makes me feel after a good workout or healthy meal. I am a happier person when I take care of myself."
Ali reveals that she and husband Alejandro Gomez Monteverde "would love more children."
"I am thinking that we go one at a time, and of course he wants a soccer team. But absolutely, more children would definitely be a blessing."
Source: Tasty Baby