Weezer Frontman Rivers Cuomo Says Baby Fuels His Creative Spark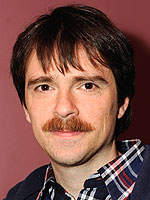 Charley Gallay/Getty
In his single, pre-dad days Weezer frontman Rivers Cuomo admits he was a skeptic when it came to the concept of domestic bliss. "I used to think, 'Who was great after he got married and had kids?' It's a very, very short list," he tells The Toronto Star. Since marrying Kyoko Ito and welcoming their daughter Mia, 15 months, he's singing a different tune entirely, however. "The massive discontentment I used to feel, it's not there anymore," Rivers, 38, says.
"It's great. Married life is great. When I'm at home, with my wife and my daughter, I just feel like I have everything I need. I just need to go to my workshop and put on some music."
Speaking of music, Mia's influence is even apparent on Weezer's latest studio effort — a self-titled work also known as The Red Album. Rivers shares that right after Mia's birth, he wrote 'The Greatest Man That Ever Lived' — a song, like his daughter, that is "just so vital and full of joy."
Source: TheStar.com