Rain Pryor Mourned Dad's Absence During Daughter's Birth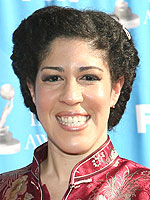 Maury Phillips/WireImage
Actress and comedienne Rain Pryor met her father — renowned comedian Richard Pryor — at age four, and over the years the pair formed an unbreakable bond. Unfortunately, due to her grandfather's death in 2005, Rain's 5 ½-month-old daughter Lotus Marie will never know him. This fact hit Rain hard at Lotus' birth — she explains that she cried after the delivery because "he was not here." Even though Richard wasn't around in the physical sense when his granddaughter was born, Rain knows that the funnyman's presence was in the room.
"She was born on April Fools' Day. You know he was there."
Rain, 39, will perform her show, The Pryor Experience, on October 3rd and 4th in Pennsylvania and October 14th in Texas. For more information, visit Rain's Official Website.
Source: Philadelphia Daily News