Melissa Joan Hart Rethinks Her Natural Birth Decision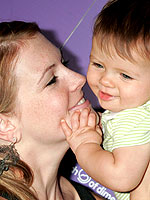 David Livingston/Getty
After experiencing "a lot of medical intervention" during the birth of her first son, Mason Walter, now 2 ½, when Melissa Joan Hart became pregnant with her second child, she was determined to try a more natural approach. While the 32-year-old actress — who "labored at home for nine hours" before heading to the hospital — agrees that being aware of all of the pain without any drugs does make "you want to get [the baby] out as soon as possible, so you really work," she admits that, looking back, she might have done things a little differently. "I told my mom and my husband, don't let me have [the drugs]. I kinda regret that one," says Melissa. Although the Sabrina the Teenage Witch star considered the drug-free birthing experience tough, she was pleased with her speedy recovery.
"The healing was so much faster. I didn't have to get the drugs out of my system and was moving around a lot more."
With the delivery pain behind her, Melissa and her husband, Course of Nature's Mark Wilkerson, are giving all of their attention to their boys, Mason and Braydon 'Brady' Hart, 6 months. Sharing that their sons are "just starting to relate to each other," and make a perfect match — "[Brady] loves to laugh at his big brother and his brother loves to make him laugh" — Melissa, who hit the gym four weeks after Brady's birth, goes on to reveal her weightloss secret!
"What I did was make sure no Sprinkles cupcakes [were] in the house, no candy. I got used to the no sugar so I was like ok, 'no starches.' I slowly started to get myself back on track and get my willpower built up."
Source: Us Weekly