Eden and Savannah Have Their Hands Full!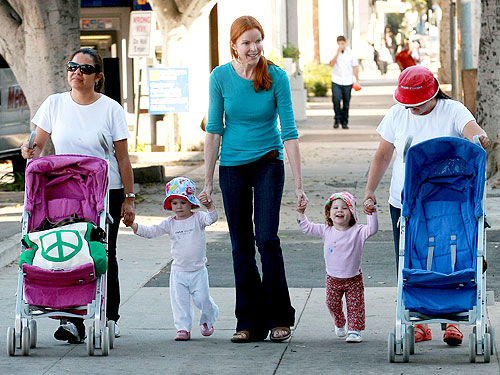 Fame
Nineteen-month-old Eden and Savannah Mahoney kept a firm grip on mom Marcia Cross and their nannies while strolling the Third Street Promenade in Santa Monica on Tuesday.
Click 'More' for another photo and all the gear info!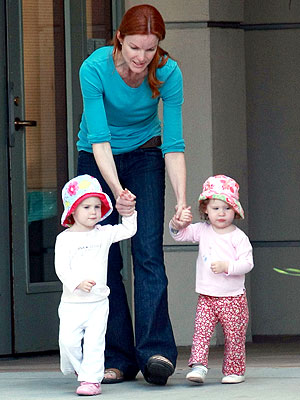 Fame
The nannies push Silver Cross Dazzle strollers, one in grape and one in blueberry ($299 each). Luckily for CBB readers, the Dazzle is our giveaway this week! Click here to enter to win one of your own!
On the stroller is Dante Beatrix's green groovy baby peace sign diaper bag tote ($115).
Savannah wears Baby Lulu's Knit Roll Hat in Pop Art (currently unavailable).
She also wears Gap Bootcut Legging in pink floral ($12.50).
On her feet are Robeez Blossom Mary Jane in White ($40).
Eden wears Baby Lulu woven knit roll hats from the Waterleaf collection ($26.50).
She also wears Pumpkin Noodle Clothing Co.'s Cute.ology tee in white ($28).
On her feet are Stride Rite's NMS Pandora sneakers ($48).