Jools Oliver Shares Her Fertility Struggle, Hopes For Another Girl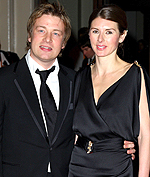 Mike Marsland/WireImage
Despite being pregnant for the third time, Juliette 'Jools' Oliver still can't fathom having a growing baby inside her tummy and often shares the excitement with her husband, celebrity chef Jamie Oliver. "I still got up in the morning and said to him, 'I haven't slept! I can't believe I've got something inside of me,'" says Jools who shares, "that feeling of another life happening … it feels more weird this time."
While the couple are elated that they are expecting their third child — due April 1st — the path to achieve their dream hasn't been an easy one. Battling polycystic ovaries, Jools became pregnant with the couple's first child, Poppy Honey, now 6, after three months of Clomid — a fertility drug that helps to establish normal ovulation — but received a pleasant surprise when Jools found out she was pregnant again with their second child, Daisy Boo, now 5, with no outside help. Recently admitting that they have been trying to get pregnant naturally for quite some time, they finally decided to turn to Clomid again in the hope of conceiving. In order for the couple to be together since Jamie is often on the road, Jules shares she was "getting trains and I was knackered and thinking, 'All this just to do the do.'" After "dreading every month" with the strong drug, that for Jools caused her "dizziness and funny vision and moody and spots," and fearing that she would have to undergo a more intensive treatment, Jools was beyond thrilled when she discovered she was pregnant.
"The line was so faint that I convinced myself it couldn't, it wasn't true…I still didn't believe it so I kept drinking water and doing more tests. It got to 4 a.m. and I'd got four positive results, so I thought, it must be fine!"
The 33-year-old former model — who reveals that "it wasn't great having children [to look after] when you're that hormonal" on fertility drugs — says that despite Jamie wanting a boy, she is actually hoping for a third daughter! Saying, "If I'm really honest, I'd like another girl," Jools doesn't understand why people's gender preference is a big deal. "People reckon we shouldn't say that, but I don't know what the big deal is. I don't think there is any harm in it," she explains.
Given the results of last week's sound off, it seems like the majority of CBB readers agree with her!
Source: Grazia Magazine via Daily Mail