Dominic Purcell Tempers Paparazzi Reaction for Kids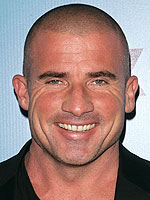 Jim Spellman/WireImage
If there is one thing that Prison Break's Dominic Purcell dislikes about being a celebrity, it would be the paparazzi because "they just annoy me endlessly," he explains. Having shown his aggravation with photographers before, the actor has learned to keep cool and "pretend they're not there," because his children — Joseph, 8, Audrey, 7, and twins Lily Rose and Augustus, 5 — witness his reaction.
"I'm not newsworthy, but I was shooting in LA, I drive home, get out ofmy car and all these paparazzi have followed me all the way to SantaMonica. I just gave them the bird and stuff but it ended up online andmy kids saw what Dad was doing. So it's really made me think that Ican't carry on like that."
Dominic, 38, is also careful not to let his kids watch all of his show. "My eldest is eight, so he's kind of used to the violence on TV now," Dominic says, but notes that Joseph knows not to believe it. Since Prison Break is back to filming in Los Angeles rather than Chicago and Dallas, the actor is glad that his children can now see him in person instead of on the television. "I'm stoked to be back in LA," explained Dominic. "I've got my kids here so it's always great to be back at work close to them."
Joseph, Audrey, Lily and Augustus' mom is Rebecca Williamson.
Source: The TV Addict