Ani DiFranco Motivated by Motherhood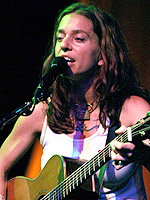 Tim Mosenfelder/Getty Images
As she celebrates the launch of her 20th album — Red Letter Year, in stores now — Ani DiFranco says that it's 20-month-old Petah Lucia, her daughter with partner Mike Napolitano, who deserves much of the credit. The influence of motherhood is throughout the album, but nowhere is it more clearly felt than in the track "Present/Infant" where Ani sings "now here's this tiny baby, and they say she looks just like me" along with "love is all over the place, there's nothing wrong with your face."
As she's said previously, welcoming Petah forced Ani to face what she describes as a lifetime of "self loathing," and in a recent interview with NPR she elaborated on why.
"[The song is about] holding my baby in my hands and going 'Oh no! She looks like me! Yuck! I hate the way I look!' and then realizing, 'Oh, that's not something I want to teach her.' So I better deal with it."
The sound of Red Letter Year is decidedly different than Ani's previous albums, and she admits that she has experienced a slight backlash from fans and critics who wonder whether she's "lost her edge." Calling her newfound happiness a "very motivating, energizing, propelling force," the 38-year-old songstress counters that motherhood is "a great place to sing from."
While Petah might not have interrupted Ani's creative flow, she has interrupted her creative output, however. Ani isn't able to write, record and perform as often as she did in her pre-baby life — not that she's complaining.
"I think that's good for me. I think if I was guilty of anything along the way it was putting out too much, too fast. So she slows me down and it's cool."
Source: NPR