Vin Diesel Reveals Daughter's Name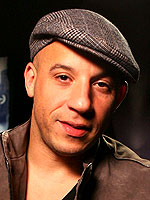 Getty Images
Vin Diesel is known for being an extremely private person, so when he and his girlfriend — model Paloma Jimenez — welcomed a daughter on April 2nd, it was no surprise that the couple didn't release the name of their little girl. The 41-year-old actor has now revealed that his first child's name is Hania Riley.
Even though Vin has opened up slightly, don't expect another announcement about marriage any time soon. While he is "honored that my fans want to be a part of my life," Vin says he and his girlfriend will "let the news out only when Paloma and I decide on taking the next step." In the meantime, he shares that Paloma has been a "calming influence" on his life, as well as making fatherhood a reality for him.
"She's given me this beautiful angelic daughter who makes my heart melt every time I see her."
Source: DNA India