My Favorite Stroller… The Toro MicraLite Stroller
After testing out a Bugaboo Frog, Quinny Buzz and Maclaren Techno, my husband and I have finally found a stroller we love: The Toro MicraLite Stroller. It's great for the city streets and even the occasional jaunt across a park lawn, but it's not so big that we can't maneuver it down crowded grocery store aisles. There's something about its bull-horned handlebars that gives us a spring in our steps, too. Chad says it reminds him of a mountain bike's handles, a definite lure for gear-obsessed dads. And our seven-month old daughter seems to appreciate how easy it is to glide the seat into its three positions. If she falls asleep, we don't have to jar her to move into full recline-mode. Celeb moms who are Toro converts include Laila Ali and Marisol Nichols.
The Toro is pricey at $574 $524.95, for just the stroller, or at $749$699.95 for the Toro Newborn System, which comes with a Carrycotbassinette and is compatible with the Graco Snugride. If you'rethinking about one of the other high-end brands, definitely considerthe Toro before making your investment.
— Angela M.
CBB Deal: Get 10% off a Toro using the code CBB08. Expires November 20, 2008. Click here to order.
WHAT WE LOVE ABOUT THE TORO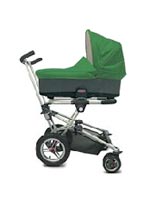 Micralite Toro with Bassinet
Super Easy Seat Adjusting: Behind the seat there are two buttons you push (with both hands) to glide the seat up and down. It snaps into one of its three positions – upright, half-reclined, or fully reclined for a nice snooze.
Sporty Handlebars: The curved, bull-horn shaped bars feel great in your hands. You can adjust the curve of the bars in or out depending on what is more comfortable for you. Another bonus: They're great for slinging bags onto as you run errands!
One-Push Brake: The break is a metal bar across the bottom of the stroller. You can easily click it into place with one foot.
Sturdy Back Wheels: While some strollers have large front wheels, the Toro's heft lies in back. This makes easing it up and down stairs or curbs a breeze.
Easy to Fold: Folding the Toro is easy, as the seat stays attached. You simply push a button in the back and it gently squeezes shut. It fits nicely into our car's trunk, which is a sub-compact.
Zip-on Raincover: Surprise downpours are nothing to fret about with the Toro's zip on rain cover. You just zip it to the edge of the sunshield and your little one will be kept nice and dry.
Narrow & Lightweight: The Toro is not as wide as other European-style strollers, so it fits into places where the others could not. Though it's still bit heavy, at 19 lbs it is slightly lighter than the Bugaboo and the Quinny and easier to carry.
WHAT WE DON'T LOVE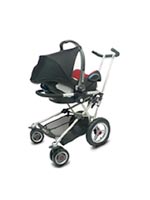 Micralite Toro with Car Seat
Bar Across Seat: There's a handle bar that goes across the seat which you can't remove when the baby is in place. Even though it folds upwards, it's often in the way. Also, NEVER pick up the stroller with this handle. The plastic holding it on to the stroller will not support much weight.
Sun Shield A Bit Short: When the seat is in the recline position, the sun shield does not come down quite as far as you need it to.
No Reverse Facing Position: Our daughter was six months old when we started using the Toro, but before then, she loved facing towards us as we pushed her. The Toro seat does NOT turn around like the Bugaboo and the Quinny.