The Flipper Toothbrush Holder: Keep Your Toothbrush Clean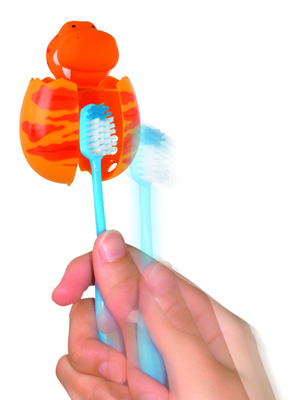 The Flipper Toothbrush Holder
I know that a few germs are good for the immune system and all, but I'm not ashamed to admit that I'm a germaphobe. And yes, I totally buy the "your toothbrush is dirtier than your toilet" line. In fact, every time I flush the toilet I picture microscopic bits of toilet grossness floating their way to the toothbrush holder and the thought of it alone is enough to make me lose it. Luckily my friend Frances told me about The Flipper toothbrush holder and I had the opportunity to check it out.
To put it simply I'm happy with this product. My 3-year-old (who is a weirdo and loves to brush her teeth) keeps her brush in the Animal World Pig and she thinks it's the best thing ever. She loves it because it's an adorable addition to a bathroom that is already overcrowded with kid-items. I love it for a million other reasons but totally agree with her that it is really cute.
— Teba
Click here to find out why I love The Flipper toothbrush holder and to get an exclusive discount on yours!