The Flipper Toothbrush Holder: Keep Your Toothbrush Clean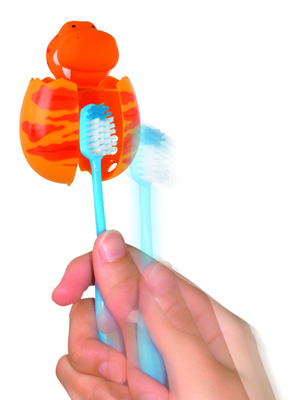 The Flipper Toothbrush Holder
I know that a few germs are good for the immune system and all, but I'm not ashamed to admit that I'm a germaphobe. And yes, I totally buy the "your toothbrush is dirtier than your toilet" line. In fact, every time I flush the toilet I picture microscopic bits of toilet grossness floating their way to the toothbrush holder and the thought of it alone is enough to make me lose it. Luckily my friend Frances told me about The Flipper toothbrush holder and I had the opportunity to check it out.
To put it simply I'm happy with this product. My 3-year-old (who is a weirdo and loves to brush her teeth) keeps her brush in the Animal World Pig and she thinks it's the best thing ever. She loves it because it's an adorable addition to a bathroom that is already overcrowded with kid-items. I love it for a million other reasons but totally agree with her that it is really cute.
Click Continue Reading to find out why I love The Flipper toothbrush holder and to get an exclusive discount on yours!
The toothbrush holder sticks to your wall with suction cups (and, no, not the kind that constantly fall off the wall — these totally hold up). Once you put your brush inside, all you or your child have to do is pull the brush towards you and the "doors" will open. To place it back inside you just press against the open holder and it closes. So easy that my 3-year-old does this on her own. (Check out the demo if you can't understand my explanation).
The holder has side vents that keep your brush from getting moldy and that allow just enough air to flow in for bristles to stay dry and clean. I tested the holder using two different brands of toothbrushes — a kid-sized brush and my own which is your standard toothbrush — and both fit. According to the company, the holder can even handle electric toothbrushes while staying gripped to a mirror, tile or other smooth surface. Because of the suction cups, the Flipper also works as a great travel case. I also love that it gives me more space on my crowded sink.
Flipper makes toothbrush holders in several fun designs. They also make razor holders which I also tested and love. This is a totally affordable product that everyone should own.
CBBDeal: Save 12% off at myflipperusa.com/ when you use code Celebrity Baby (expires Oct. 30, 2008).
— Teba