Russell Crowe Gets His 'Manly Man' Time With Sons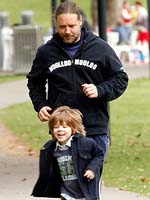 Bauer Griffin
During a Monday night appearance on The Tonight Show with Jay Leno, actor Russell Crowe said that a recent six-month stay in Australia with wife Danielle Spencer and their two sons Charles 'Charlie,' 4 ½, and Tennyson, 2, yielded some long sought-after "manly man" time for the boys. With Danielle busy on a project, Russell took a "big step" in his "life as a dad" by introducing Charlie and Tennyson to the family farm! Of course, proper attire was needed — and Russell, 44, was only too happy to outfit his sons with "big cowboy hats" and "special work boots" for performing their new farm chores. Charlie was "really into the idea of having a specific uniform" for the occasion, Russell shared, and made some interesting observations along the way!
"We're walking through the paddock he sort of grabs my hand at one point and says [softly], 'Dad, did you know that it's a completely different feeling when you step in horse poop than when you step in cow poop?' He's on it."
Russell's latest film Body of Lies opens October 10th.
Source: The Tonight Show with Jay Leno