Indy Racer Dan Wheldon Expecting First Child, a Boy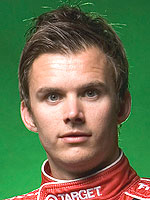 Robert Laberge/Getty
The 2005 Indianapolis 500 champion Dan Wheldon has announced that he is expecting his first child — a baby boy — with his wife Susie. Although Dan and Susie were hesitant to share the news earlier on in the pregnancy because they wanted to "enjoy the experience a little bit on our own," the couple couldn't be more excited that their son will get to watch his father open the 2009 IndyCar series season in Florida. Mom-to-be and the baby boy due in January — whom the couple have named Sebastian Daniel — are "doing very well," says Dan. As for impending fatherhood, the 30-year-old driver is over the moon as he shares,
"I'm from a big family and I love kids so I'm excited about it. He's going to want his dad to be a winner, so I have to make sure that happens as quick as possible."
Dan and Susie were married last March.
Source: IndyCar
Thanks to CBB readers Paige and Victora.