Jennifer Lopez: I'd Love To Have More Kids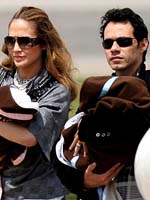 VIRGINIE LEFOUR/ AFP/Getty
That she welcomed her first children — 7-month-old twins Max David and Emme Maribel — at the age of 38 isn't slowing Jennifer Lopez down in the least. Now 39, she recently completed her first triathlon, is recording songs for an upcoming greatest hits album, unveiled a new men's fragrance and is even contemplating a bigger brood with husband Marc Anthony.
"I'd love to have more kids. I don't know when, we'll see, you know, that's the same way my first ones happened! We'll just do it the same way for the second [time around]!"
Max and Emme are "getting big," Jennifer tells Entertainment Tonight, and hitting plenty of milestones along the way — like crawling and sitting up. "[Motherhood] changed my whole perspective on life," Jennifer says. "It's great because it makes you very focused on the things in your life that you need to concentrate on. It makes everything very simple." The triathlon is something that clearly required a great deal of that focus, and Jennifer trained for more than two months in anticipation of the September 14th race. Because she was wary of paparazzi following her every move, however, the vast majority of that training was done within her Long Island home. While her indoors-only technique might be perceived as unconventional by her fellow triathletes, it did offer the unique advantage of added time with the twins.
"I could just throw the babies in a little playpen on the floor, or their little mat. They'd just be right there, and if they got cranky I'd pick them up and put them on my lap while I rode the bike."
Source: Entertainment Tonight