Giada De Laurentiis Shows Off Jade on 'Today'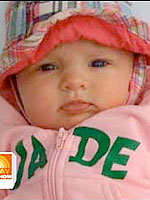 Today
Today contributor and chef Giada De Laurentiis was on Today this morning, promoting her new book, Giada's Kitchen: New Italian Favorites, and cooking up some delicious meals with host Matt Lauer. Making a special appearance? Giada's six-month-old daughter, Jade Marie!
Giada, 38, says she was inspired by her daughter to cook for kids and create recipes that children can help with when in the kitchen. She shared, "I started helping out in the kitchen early in my life, and I hope thatJade will, too. In our family, cooking is a tradition that's passeddown from one generation to the next. But first, Jade needs some teeth!"
After commenting on how cute Jade is, Matt jokingly asked, "Is she sleeping?" To which Giada replied "I am, and she is!" As for husband, designer Todd Thompson? "No!" she joked, adding of their baby girl, "Luckily, we got a good one."
Source: Today
Thanks to CBB reader Rebecca.
Click "More" for a video of Giada, Todd and Jademeeting with Matt Lauer (and creating some tasty kid-friendly dishes)!